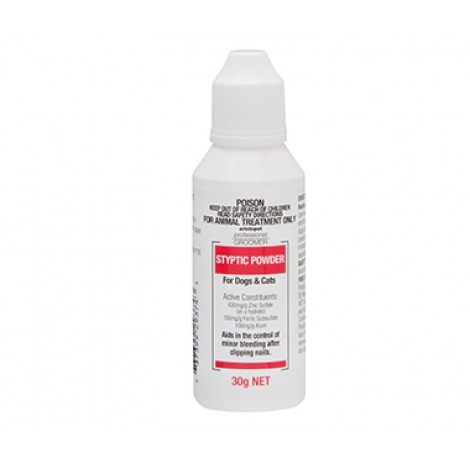 Active Constituent/s: 100mg/g alum, 100mg/g ferric subsulphate, 630mg/g zinc sulfate (as hydrate) 30g
Application: Ever paniked when you trim nails and they bleed? Styptic Powder aids in the control of minor bleeding after clipping nails or dew claws.
Directions for use: The powder should be directly applied to the bleeding nail, in sufficient amount to thoroughly cover the area. Moderate pressure should be applied until bleeding stops. The application may be repeated if needed, however if bleeding fails to stop, a veterinarian should be consulted.
Warnings, Side Effects and Drug Interactions: Styptic powder should not be applied to open wounds, burns or in body cavities. For external use only.

Storage: Store at room temperature, below 30°C

Manufacturer: Aristopet
Specifications
For
Dogs
Active Constituents
100mg/g alum, 100mg/g ferric subsulphate, 630mg/g zinc sulfate (as hydrate) 30g
Application
Topical
Aristopet Styptic Powder for Dogs & Cats