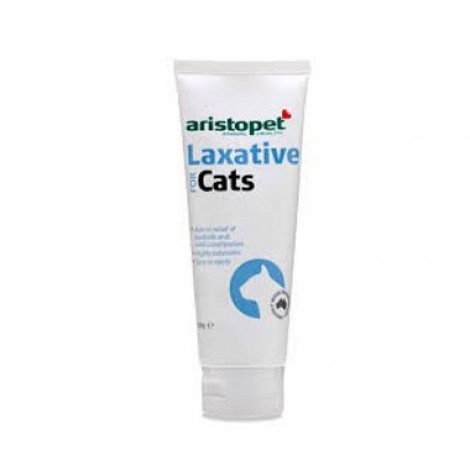 Contains: Soft White Paraffin, Malt Syrup, Liquid Paraffin, Cod Liver Oil, Caramel, Sodium Benzoate (preservatives), Vitamin E (dl-alpha-tocopheryl acetate)(antioxidant), Purified Water.
A palatable laxative to aid in the removal and prevention of hair balls in cats and kittens.
Cats and kittens ingest hair as a result of self-grooming.
The hair may accumulate in the stomach and form hairballs.
Signs of hairballs are coughing, vomiting, gagging and constipation.
Hairballs can be prevented by frequent grooming and routine dosage of cat lover laxative & hairball remover.
Directions: Most cats will accept Laxative readily.
For finicky animals place a small amount on paw, the cat will lick his paw and accept the pleasant taste.
Dosage: Squeeze recommended dosage from tube.
Use 2-3cm (0.78-1.1 inches) for the average 4kg (8.8lbs) cat.
For smaller or larger cats vary amount accordingly.
Administer 2-3 times a week.
Specifications
For
Cats
Active Constituents
Soft White Paraffin, Malt Syrup, Liquid Paraffin, Cod Liver Oil, Caramel, Sodium Benzoate (preservatives), Vitamin E (dl-alpha-tocopheryl acetate)(antioxidant), Purified Water
Application
Oral
Aristopet Cat Lover Hairball Remover & Laxative 100gms (3.5 oz)