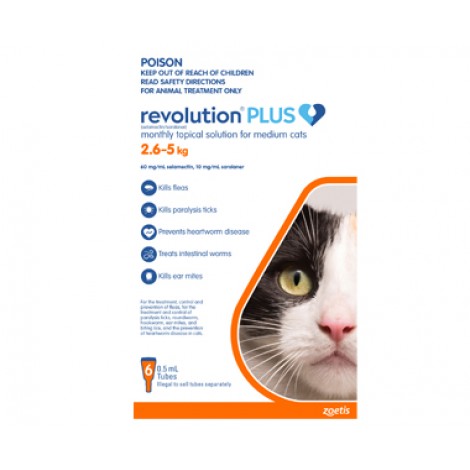 Active Constituents: 60 mg/mL Selamectin, 10 mg/mL Sarolaner. Each vial contains 0.5mL
For cats 2.5-5kg (5.5-11lb)
Expiry – 6 & 12 Pack June 2024
The spot-on kills fleas and paralysis ticks, black-legged or deer tick, gulf coast tick and american dog tick and prevents heartworms and treats intestinal worms. It destroys fleas before they lay eggs and breaks flea life cycle. The easy to apply spot-on is effective in controlling roundworms and hookworms. The new clinically proven treatment is also effective in controlling ear mites and biting lice. The topical treatment decreases the signs of flea allergy dermatitis and prevents future flea infestations. Revolution Plus broadens the scope of protection inside and out. This monthly treatment is quick-drying and long lasting.
REVOLUTION PLUS combines the proven broad-spectrum protection of selamectin with the advanced flea- and tick-killing power of sarolaner.
REVOLUTION PLUS is a simple-to-apply, quick-drying, small-volume, monthly topical solution
REVOLUTION PLUS provides the broad-spectrum pest protection both indoor and outdoor cats need,
REVOLUTION PLUS is the only 6-in-1 preventative with broad-spectrum action against parasites that threaten cats.
Revolution® is an unscheduled veterinary medicine, not a pesticide.
Broad-spectrum protection against most internal and external parasites.
Kills adult fleas and their eggs.
Combines a unique activity on emerging and already existing eggs and larvae in the enviroment
Fast, simple and easy to use.
Due to the low-volume dosage size, the solution can be applied in one spot.
Non-greasy, quick-drying preparation.
Bathing the pet 2 hours after application does not affect efficacy.
Application:
Hold tube upright.
Press cap down until a click is heard (cap punctures applicator seal).
Remove cap and check to be sure tip of tube is open.
Part hair at base of neck and place tip of tube on visible skin area.
Squeeze tube 3 or 4 times in one spot until empty. Keep tube squeezed to avoid drawing liquid back into tube. While keeping tube squeezed, drag it away from liquid and lift up to remove.
Ensure tube is empty.
The recommended dose is 6 mg selamectin/kg of body weight.
Additional Information:
Prior to administration, cats should be tested for existing heartworm infection. At the discretion of the veterinarian, infected cats should be treated to remove adult heartworms.

While the number of circulating D. immitis microfilariae may decrease following treatment, Revolution® is not effective against adult D. immitis.

In humans, may be irritating to skin and eyes.

In studies, less than 1% of cats experienced digestive upset.

In pre-clinical studies, less than 1% of cats developed transient hair loss at the application site.

Do not use in sick, debilitated or underweight animals.

Flammable. Keep away from heat, sparks or open flame.

Keep out of reach of children.
Revolution Plus Medium Cat 2.5-5kg (5.5-11lb) (Orange)