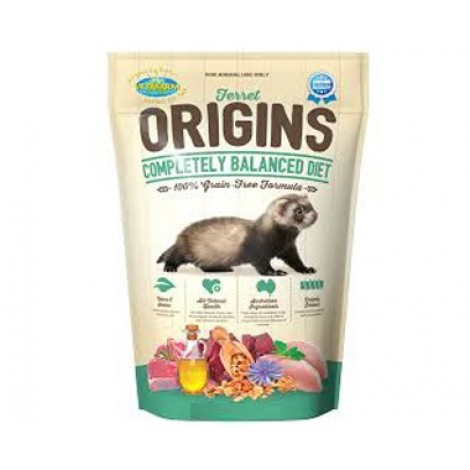 ** Note: International customers please contact us directly by either email or phone to order this product as extra shipping charges will apply.**
Ingredients:
Lamb, beef liver, chicken bio flavour, pea flour, vegetable oil, soy protein, calcium, lysine, methionine, selenium, beta-carotene, vitamins (B1, B2, B3, B5, B6, B9, B12, C, D3, E, H & K), minerals (copper, cobalt, iodine, iron, magnesium, manganese, phosphorus, potassium, sodium, sulphur, zinc).
Description:
100% grain free balanced diet for Ferrets
Key Features:
Contains balanced calcium and phosphorus to ensure that ferrets at all stages of life receive the calcium and phosphorus that they need to prosper. Contains natural chicory root, encouraging beneficial gut flora and immune function. Uniquely Extruded to ensure optimum digestibility, safety and palatability of the meats included in ferret origins.
Target Species:
Ferrets
Recommended Use:
Use as a nutritionally balanced, complete diet for pet ferrets
Specifications
For
Ferrets
Active Constituents
Lamb, beef liver, chicken bio flavour, pea flour, vegetable oil, soy protein, calcium, lysine, methionine, selenium, beta-carotene, vitamins (B1, B2, B3, B5, B6, B9, B12, C, D3, E, H & K), minerals (copper, cobalt, iodine, iron, magnesium, manganese, phosphorus, potassium, sodium, sulphur, zinc).
Application
Oral