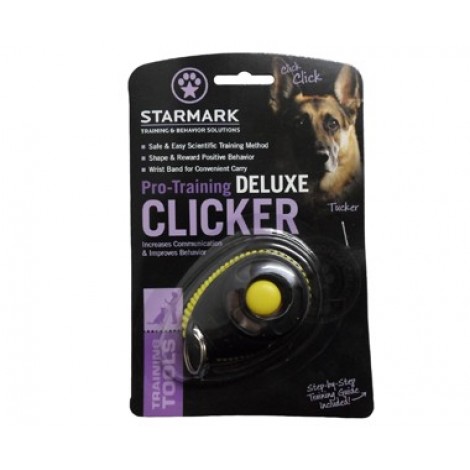 The Starmark Pro-Training Deluxe Clicker is an easy and fun way to shape and reward positive behaviour in a dog.
It is based on the scientific principles of Classical conditioning and Operant conditioning and its ergonomic design makes it comfortable to use.

Starmark designed their clicker with ergonomics in mind.

Traditional clickers can be bulky and uncomfortable to use, while the Starmark Pro-Training Deluxe Clicker is comfortable to use and is made from a lightweight and durable material.

The raised button on the clicker is easy to find and press, even if you are wearing gloves or have long fingerails, and the stainless steel clicker element will not rust.
Used at the Starmark Training Academy, you too can repeat positive behaviours that lead to rewards.
Increases Communication
Improves Behaviour
Safe and Easy Scientific Training Method
Shape and Reward Positive Behaviour
Wristband for Convenient Carry
Step by Step Training Guide Included
StarMark Pro-Training Deluxe Clicker