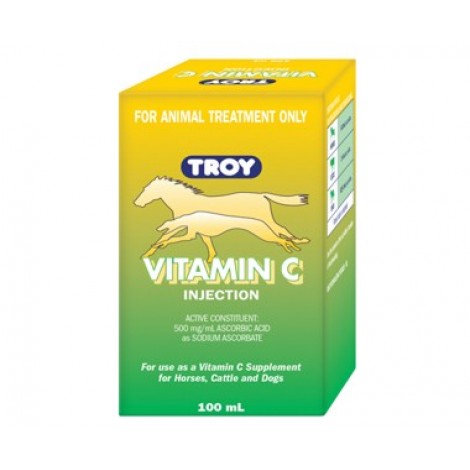 Active Constituents: Ascorbic acid as Sodium Ascorbate 500mg/mL.
Troy Vitamin C supplement for horses, cattle & dogs 100ml
Vitamin C is an essential coenzyme in certain metabolic processes, particularly in the metabolism of the amino acids Tyrosine and Phenylalanine, collagen synthesis in ligaments, tendons and joint cartilage, synthesis of L-Carnitine, red blood cell formation, and modulating immune responses, as well as in the maintenance of healthy skin. It is also essential in the conversion of Folic acid, and in promoting the absorption of Iron from the gut.

Vitamin C has a role in the metabolism of certain steroid hormones, and high levels of Vitamin C are found in the Adrenal gland in times of stress.

VITAMIN C has a major role as a potent antioxidant to remove toxic free radicals produced during hard physical exercise.

VITAMIN C is critical and essential in the maintenance and repair of joints and joint cartilage, synthesis of collagen, proteoglycans and other joint components, tooth, bone, skin and blood vessel maintenance, and in the healing and repair of wounds, burns and fractures.

Directions for use
By i.m., or s.c., injection.
Dogs: 0.25 - 1mL
Horses: 5 - 10mL
Cattle: 2 - 4mL
Repeat daily as indicated.

Withholding period
Nil.
Vitamin C Injectable 100mL