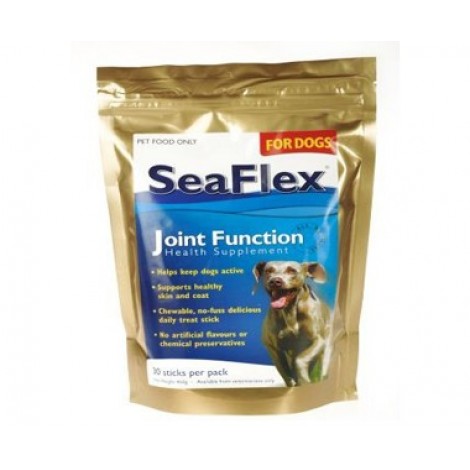 Scientifically designed Seaflex is a revolutionary bio-marine nutritional supplement that is rich in important anti-oxidants, marine carotenoids, amino acids, marine trace minerals, fatty acids, vitamins and minerals as well as other marine nutrients.
Formulated as a tasty chewable treat, Seaflex is completely natural, made with only select quality meats and human grade ingredients. It contains no nasty preservatives or artificial coours and flavours.
Give your dog a new lease on life.
Seaflex is the ultimate senior dog supplement.
Given once a day it is a healthy treat for your pet.
Safety: Being natural, Seaflex can be safely used with any other medications and foods as prescribed. This effective formulation and patented process is the result of over 10 years of research backed by years of proven results both here in Australia and the U.S.A.
Seaflex is great for:
Adult and senior dogs showing visible signs of ageing including decreased activity, mobility and 'pep' or a dull and dry coat.
Younger pets as a valuable tonic for optimum health.
Younger dogs showing signs of any issues normally associated with getting older.
Dogs in show - for peak appearance and performance.
Dogs which don't like taking tablets or powdered supplements
How is Seaflex different?
In comparison to other products Seaflex® works fast. Its unique formulation uses a patented process which keeps ingredients stable. hence they retain their high nutritional value and synergistic action with the trace vitamins and minerals.
What this means is uptake by the body is quicker. You'll most likely see a visible difference in your dog after about 10 days. (Sometimes even sooner!)
How can Seaflex help my dog?
The potent antioxidant formula supports vitality and energy in dogs of all ages helping them keep their youthful and playful behaviour and zest for life.
The unique blend of marine nutrients, vitamins and minerals helps to support the structual framework of joints as as helping maintain healthy skin and coat.
Pack size:
Each pack conatins 30 chewable sticks. Pack weight 450g.
Directions for use:
Give 1 stick per 30kg of bodyweight.
For dogs weighling less than 30kg, give portions as dictated by bodyweight.
Specifications
Package Information
30 x chewable sticks
For
Dogs
Active Constituents
Australian chicken, Atlantic kelp, Flax seed (a great source of Omega-3 fatty acids), and a variety of essential amino acids, vitamins and minerals
Application
Oral
SeaFlex for Dogs 450gms (15.75 oz)