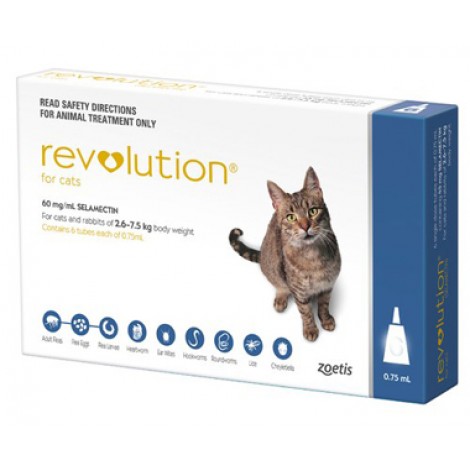 Active Constituents: 60mg/mL Selamectin
Expiry – 6, 12, 24 Packs June 2024
Treat your precious cats with this is an easy topical once-a-month preventive treatment which kills adult fleas, flea eggs and flea larvae in the environment and controls flea allergy dermatitis, prevents heartworm disease heartworm, treats and controls ear mites, hookworm and roundworm, treats and controls sarcoptic mange and is non-greasy and waterfast only 2 hours after application.
Specifications
For
Cats 2.6-7.5kg (5.1-15lbs)
Active Constituents
60mg/mL Selamectin
Water Fastness
Waterproof after 2 hours
Safety Information
Cats should be tested "Adult Heartworm Clear" before giving this medication. Revolution can be used in puppies and kittens from 6 weeks of age or older. Do not use in sick, debilitated or underweight animals.