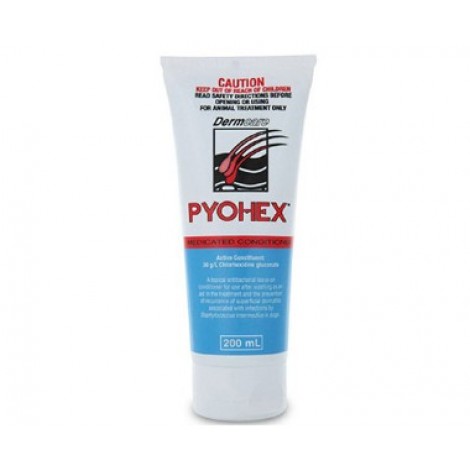 Active Ingredients: 30g/L Chlorhexidine Gluconate.
Registered for use in dogs and puppies of any age.
A proven antibacterial with activity against gram positive bacteria eg. Staphylococcus intermedius and gram negative bacteria.
Non-toxic, non-irritating, with up to 14 days residual activity when used with Dermcare Pyohex Medicated Foam.
Action: The Chlorhexidine in PYOHEX LOTION works by binding to hair to eliminate bacteria in situ.
Chlorhexidine kills bacteria by disrupting the cell membrane and precipitating the cell contents.
PYOHEX LOTION binds strongly to the skin and hair, resulting in up to 14 days residual action.
As Chlorhexidine is poorly absorbed through the skin, PYOHEX LOTION is completely safe when used as directed.
PYOHEX Lotion is pH neutral, specifically designed for canine skin.
Directions of use:
First shampoo with an appropriate antibacterial shampoo, such as Pyohex Medicated Foam, as recommended by your veterinarian.
Apply to damp coat by placing a small amount into the palm of your hand spread evenly over both hands, then massage gently into coat over entire body.
Use approximately 1 mL (.034 floz)per kilogram (2.2lb) of body weight for the dog.
Do not rinse after application.
Specifications
For
Dogs/Puppies
Active Constituents
30g/L Chlorhexidine Gluconate
Application
Topical
Pyohex Medicated Lotion 100mL (3.4 fl oz)