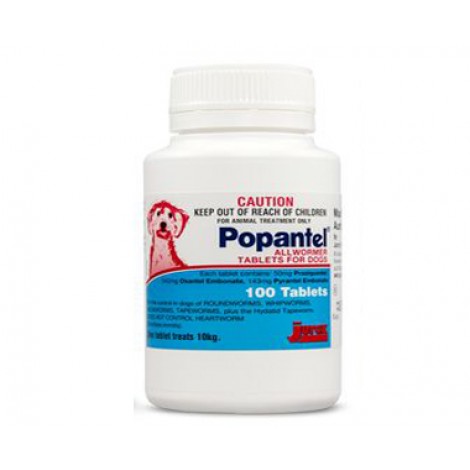 Active Constituents: 50mg Praziquantel, 542mg oxantel embonate,143mg pyrantel embonate.
Dose: 1 tablet treats 10kg (22lbs) Single Tablet
Expiry: February 2021

For the control of roundworm, hookworm, whipworm and tapeworm and hydatid tapeworm in dogs.

Popantel uses encapsulated ingredients. This means that you will find that your dog will accept Popantel more easily.

It is easier on their taste buds, easier to swallow and easier to calculate the correct dose your dog requires.
Specifications
For
Dogs 10kg (22lbs)
Active Constituents
50mg Praziquantel 542mg Oxantel Embonate 143mg Pyrantel
Popantel Allwormer 10kg (22lb)