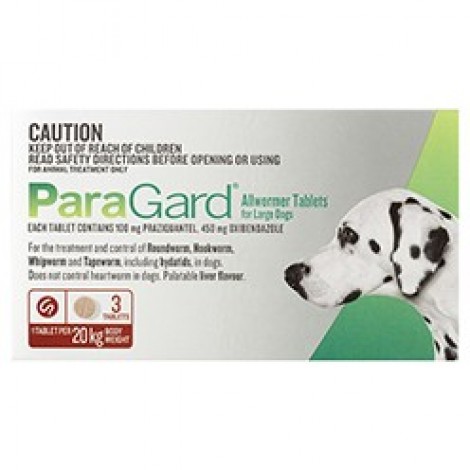 Active Constituents: Praziquantel, Oxibendazole

Each pack contains three tablets.

Paragard Broad Spectrum Wormer Key Benefits:
Tablet for the control of all common gastrointestinal worms.
Can be given with or without food; fasting prior to dosing is not necessary
Directions of Use:
Weigh dogs before treatment. Dogs are treated by weight with the appropriate sized tablet or combination of tablets. Paragard Allwormer
Tablets for Medium Dogs Up to 10kg (Green) is given as a single dose by mouth. Fasting prior to dosing is not necessary.
A common regime for treatment is to worm puppies every 2 weeks of age from 2 weeks old until 12 weeks, monthly from 3 months until 6 months then every 3 months as an adult dog. Treat breeding bitches prior to mating then 10 days before whelping and 2 and 4 weeks after whelping.
Caution
Do not use in puppies under 2 weeks of age. This medication should not be used in animals allergic to it. This product does not prevent heartworm.

Possible Side Effects
The side effects of Paragard Allwormer for Small Dogs and Puppies (up to 5kg) are rare at the recommended dosage. Paragard has a wide margin of safety for all sizes and breeds of dogs. Paragard may be combined with other treatments for example heartworm prevention, flea and tick treatments, vaccination
Paragard Allwormer for Large Dogs Up to 20kg - 3 Tabs