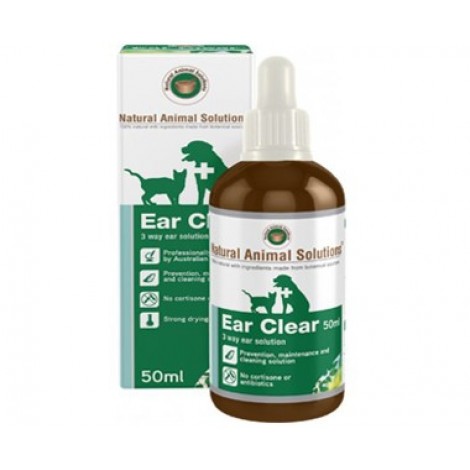 Active Constituents: Aluiminium acetate solution, aloe vera juice, witch hazel, boric acid, lavender oil.
Revolutionary 3 way ear solution
Rated 5 out of 5 for effectiveness from consumer reviews at Australia's largest online store
All natural pharmaceutical strength formulation thats safe for cats and dogs.
Natural Animal Solutions Ear Clear is a pharmaceutical strength formulation for cats and dogs with a handy dropper to ensure accurate administration.
Natural Animal Solutions Ear Clear combines the finest plant extracts and natural ingredients with Aluminium Acetate Solution* to offer a product like no other in the current market.
No detergents, no foaming or irritating agents and no sticky oils or residues.
Aluminium Acetate Solution is a unique strong and soothing drying agent exclusive to Natural Animal Solutions. It is a strong antibacterial and antifungal solution
Aluminium acetate solution is a formula unique to only Natural Animal Solutions.
Dosage and directions:
Cats: 3 drops twice daily
Small Dogs: 1/4 - 1/2 a dropper twice daily
Medium - Large dogs: 1/2 - full dropper x 2 daily
Natural Animal Solutions Ear Clear 50mL