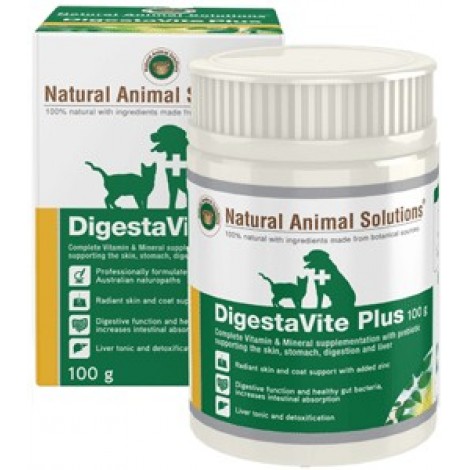 An extensive formulation containing all 34 essential vitamins, minerals & amino acids, with an added prebiotic in highly absorbable levels. This low irritant formulation provides cost effective supplementation.

A truly superior formulation with extensive testing in the laboratory and clinic
Carefully formulated to contain all 34 essential vitamins, minerals and amino acids in highly absorbable levels thats your pet's require
Also containing a unique Prebiotic to support the digestive function & healthy gut bacteria. Radiant skin and coat support with added zinc. Assist with bad breath stemming from the stomach. Maintains healthy gut bacteria for fewer and firmer stools. Digestive function and healthy gut bacteria, increases intestinal absorption. Liver tonic and detoxification.
Essential vitamin and mineral nutrition to complete your pet's dietNatural Animal Solutions® DigestaVite Plus is a highly concentrated multivitamin and multi mineral supplement, containing 34 essential vitamins, minerals and amino acids sourced from the finest ingredients available. DigestaVite Plus is much more than a standard multivitamin supplement. This complex blend also supports digestion, stomach and liver complaints, skin repair and hair regrowth and is a core component of our Skin Pack.
Ingredients: Glutamine, Inulin, Spinach leaf powder, Parsley leaf powder, Beetroot root powder, Broccoli, Green Tea Extract equip. to dry leaf, Grapeseed extract, GingerSlippery Elm. Stem bark inner powder, Milk Thistle, Acacia Powder, Betacarotene, Thiamine Hydrochloride (Vitamin B1), Ribofl avine (Vitamin B2), Nicotinamide (Vitamin B3), Calcium Pantothenate (Vitamin B5), Pyridoxine Hydrochloride (Vitamin B6), Cyancobalamin (Vitamin B12), Ascorbic Acid (Vitamin C), Cholecalciferol (Vitamin D3), Vitamin E, Biotin, Folic Acid, Magnesium Amino Acid, Magnesium Citrate, Calcium Citrate, Zinc Sulphate, Potassium, Phosphorus, Omega 6, Vitamin A, SeleniumIron,
Amino Acids,Tryptophan,Threonine,Isoleucine, Leucine,Lysine,Methionine,Cystine,Phenylalanine,Tyrosine,Valine,Taurine
Dosages
Cats: 1/8 teaspoon daily
Dogs:
10kilo: 1/4 teaspoon daily
30kilo: 1/2 teaspoon daily
60kilo: 1 flat teaspoon daily

For therapeutic treatment, dosage can be double after 1 week.
Natural Animal Solutions DigestaVite Plus 100gms