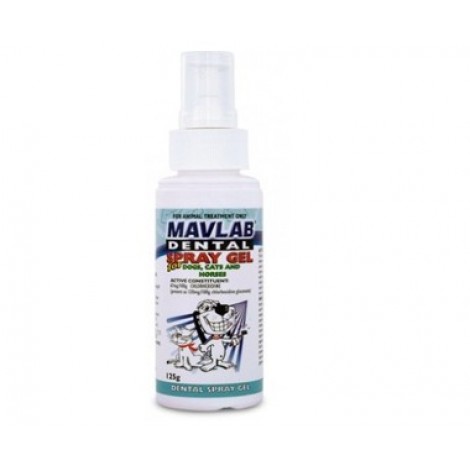 Active ingredient: Chlorhexidine (67mg/g).Mavlab's Dental Spray Gel maintains oral hygiene and fresh breath in dogs, cats and horses.
Mavlab Dental Spray Gel can be used to supplement brushing and scaling teeth for maintenance of oral hygiene and fresh breath; prevention of periodontal disease with its associated bacterial endocartitis and short-term application for the prevention and control of gingivitis. It can be used as a supplement or replacement for brushing and scaling teeth, for the maintenance of oral hygiene and fresh breath, as well as for the prevention of periodontal disease and its subsequent bacterial endocarditis.
Directions: Apply with soft bristled toothbrush or spray directly on teeth, then brush for 2 minutes. Use daily or as needed.
The disinfectant action aids in the control of gingivitis and periodontal disease.
125mL
Specifications
For
Dogs/Cats
Active Constituents
Chlorhexidine (67mg/g)
Application
Oral
Mavlab Dental Spray Gel 125mL