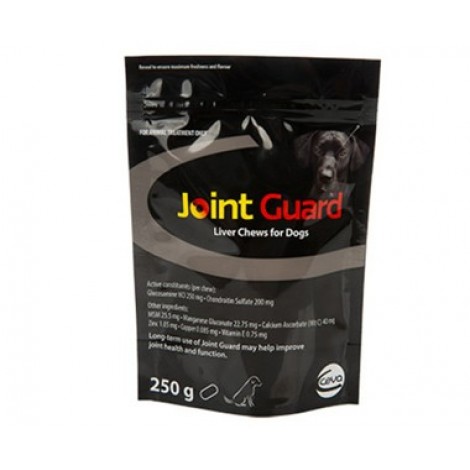 Active Constituents: Each Joint Guard Liver Chew contains glucosamine hydrochloride 250 mg, chondroitin sulfate 200 mg, as well as MSM, manganese gluconate, calcium ascorbate (vitamin C), zinc, copper and vitamin E.
Liver Chews 250gm are a chewable treats for dogs
Active Ingredients: Directions for Use - For the initial period of 4 to 6 weeks give 2 chews daily per 10 kg ( 22lbs). After 6 weeks give a maintenance dose of one chew daily per 10 kg.
Possible Side Effects
The side effects of Joint Guard are rare at the recommended dosage. Studies in dogs have demonstrated no adverse effects on the liver, kidney or other organs. Some dogs may initially develop a mild gastrointestinal upset which usually subsides over a short time.
Specifications
For
Dogs
Active Constituents
Glucosamine hydrochloride 250mg, Chondroitin sulfate 200mg, MSM, Manganese gluconate, Calcium ascorbate (vitamin C), Zinc, Copper and Vitamin E
Application
Oral
Joint Guard Liver Chews 250gm