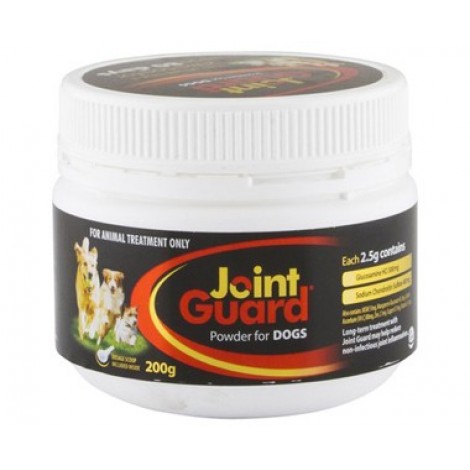 Active Constituents: Each 2.5 grams of JOINT GUARD Powder for dogs contains: Glucosamine Hydrochloride 500 mg Purified Sodium Chondroitin Sulphate 400 mg Also contains MSM, manganese gluconate, calcium ascorbate (Vit C), zinc, copper, vitamin E
Arthritis is common in dogs, particularly those that are aging, have experienced an injury or who are generally over-active.
Joint Guard is a new product which helps maintain healthy joints in dogs.
It contains purified glucosamine hydrochloride which is the raw material for new cartilage growth, as well as an easy-to-absorb form of chondroitin sulfate which helps reduce ongoing cartilage damage.
Joint Guard is also the only product for dogs that contains MSM.
It is the ideal option for all joint problems including prevention in younger dogs.
Initial Dose
5-10kg ½ scoop daily
11-22kg 1 scoop daily
23-44kg 1 ½ scoops daily
Over 45kg 2 scoops daily
Maintenance Dose
5-10kg ¼ scoop daily
11-22kg ½ scoop daily
23-44kg 1 scoop daily
Over 45kg 1 ½ scoops daily,
Specifications
For
Dogs
Active Constituents
Glucosamine Hydrochloride 500 mg Purified Sodium Chondroitin Sulphate 400 mg Also contains MSM, manganese gluconate, calcium ascorbate (Vit C),Zinc, copper, vitamin E
Application
Oral
Joint Guard