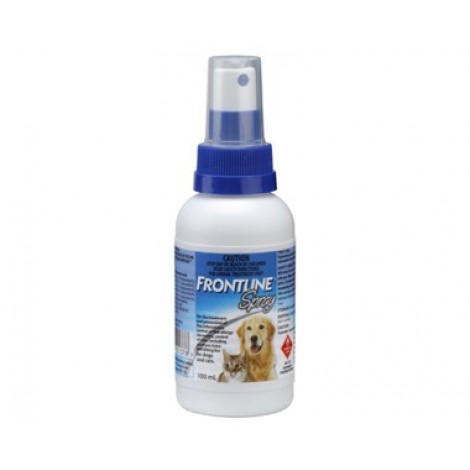 Frontline Spray Flea and Tick Treatment
For dogs, puppies, cats, and kittens.

How Does It Work
Frontline Spray has active ingredient fipronil. It readily penetrates into the cat skin. When fleas come in contact, the ingredient destroys fleas by paralysing their nervous system. It also eliminates biting lice on cats and protects them from diseases carried by lice. Controlling re-infestation, Frontline Spray protects felines from flea allergy dermatitis.
Adjust the nozzle according to the spray setting.
Apply Frontline Spray at 3 to 6 ml per kg bodyweight.
Use the higher dose rate for long-haired or densely coated animals to ensure the coat is thoroughly wet.
Spray the entire body and apply at the distance of approx. 10-20 cm.
Apply against the lay of the hair, and ruffle the coat especially the long haired cats while spraying, so that the product is applied aptly.
Let the product dry naturally. Do not use towel to dry your cat.
For use on cats only.
Safe to use on kittens from 2 days of age.
Do not take Frontline Spray near open flame or heat as it is highly inflammable.
Keep away from direct contact of human eyes and skin.
Do not eat, drink or smoke while applying the spray.
Keep out of reach of children and pets
Store below 30°C (Room Temperature).
Contraindications
Consult a vet before using this flea control spray on aged and debilitated cats.
Frontline Spray is not intended for pets hypersensitive to the ingredient of Frontline.
Please note: International shipping regulations prohibit the shipping of this product due to flammability by air freight to customers outside of Australia
Specifications
For
Dogs/Cats
Active Constituents
Fipronil
Frontline Spray 100ml
Not for sale to USA or UK