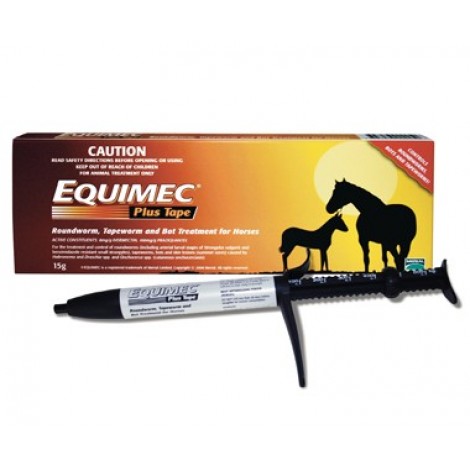 Active Constituents: 8mg/g Ivermectin and 100mg/g Praziquantel
Expiry: December 2018
For generations, you've trusted Equimec to provide safe parasite protection for your horses. Now Equimec Plus Tape not only protects against roundworms, bots and summer sores, but it has tapeworm control too. Click "Information" for more detail on Equimec Plus Tape.
EQUIMEC Plus Tape Roundworm, Tapeworm and Bot Treatment for Horses
For the treatment and control of roundworms (including arterial larval stages of Strongylus vulgaris and benzimidazole resistant small strongyles), tapeworms, bots and skin lesions (summer sores) caused by Habronema and Draschia spp. and Onchocerca spp. (cutaneous onchocerciasis).
Product Benefits:
1. Treats and controls tapeworm, large strongyles, small strongyles (including strains that have become resistant to benzimidazole), pinworms, ascarids (roundworms), hairworms, large-mouth stomach worms, neck threadworms, bots, lungworms, intestinal threadworms, Habronema and Draschia spp. cutaneous larvae (summer sores) and Onchocerca spp. microfilariae (cutaneous onchocerciasis).
2. Equimec Plus Tape has a wide margin of safety at the recommended dose level. It may be used in horses of all ages. Mares may be treated at any stage of pregnancy. Stallions may be treated without adversely affecting their fertility.
3. Low dose volume in an easy to use trigger applicator.
Dose Rate: EQUIMEC Plus Tape is given orally at the recommended dose level of 1mL/40 kg bodyweight. The contents of one syringe will treat one horse at 600kg bodyweight. Each weight marking on the syringe plunger will deliver 2.5g of paste which is sufficient to treat 100kg bodyweight.

Specifications
For
Horses
Active Constituents
Ivermectin 8 mg/g and Praziquantel 100 mg/g
Application
Oral
Equimec Plus Tape