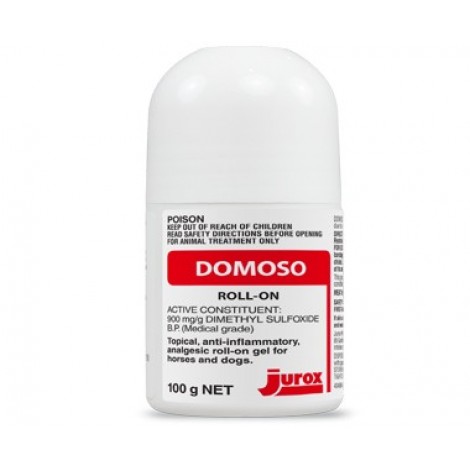 Domoso Roll-On 100gm
PLEASE NOTE: This product will return a positive swab. Withholding times apply.
A topical roll-on treatment for swelling, bruising and muscle pain in horses and dogs. Has both analgesic (painkilling) and anti-inflammatory properties.
Contains: Dimethyl sulfoxide BP (DMSO) 900mg/g, in a gel base.
Directions for Use:Clean & Dry the area to be treated.
Apply to the affected area using the roll-on applicator, 2 to 3 times daily.
Long hair should be clipped. Short hair does not present a problem.
Do not rub or scrub into the skin.
Do not bandage the treated area, as this may cause blistering.
Precautions:
Avoid contact with eyes and skin, and avoid breathing vapour.
Wear protective gloves when using this product. If skin contact occurs, remove contaminated clothing and wash skin thoroughly.
Do not use on horses that may be used for human consumption
For external use only.
Specifications
For
Dogs/Horses
Active Constituents
Dimethyl sulfoxide BP (DMSO) 900mg/g, in a gel base
Application
Topical
Domoso Roll-On 100gms