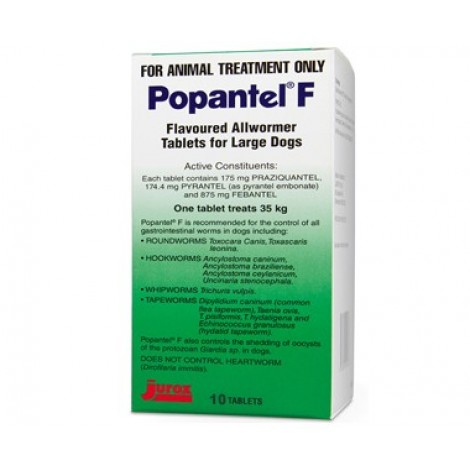 Active Constituents: 175 mg Praziquantel, 174.4 mg Pyrantel (as pyrantel embonate) and 875 mg Febantel.
One tablet treats 35kg or 77lbs
Expiry: February 2022
For the control of:
ROUNDWORMS
WHIPWORMS
HOOKWORMS
TAPEWORMS
Also controls the shedding of oocysts of the protozoan Giardia spp.
Does not control heartworm.
Treatment: Dogs should be treated at 2, 4, 6, 8, 10 and 12 weeks of age, then monthly at 4, 5 and 6 months of age and then every 3 months.

Pregnant and lactating bitches should be treated before mating, 10 days before whelping, then 2 and 4 weeks after whelping.

Dogs in hydatid tapeworm areas need treatment with Popantel F every 6 weeks.
Specifications
For
Dogs 35kg (77lbs)
Active Constituents
175 mg Praziquantel, 174.4 mg Pyrantel (as pyrantel embonate) and 875 mg Febantel
Popantel F Allwormer 35kg (77lbs)