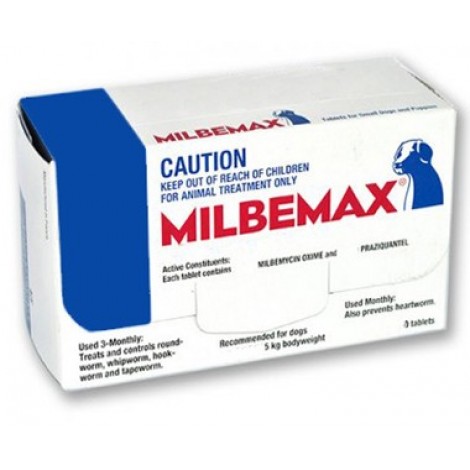 Active Constituents: each tablet contains 12.5 mg Milbemycin Oxime and 125 mg Praziquantel.
1 Tablet
Milbemax effectively protects against:
Tapeworm
Roundworm
Hookworm
Whipworm
Prevents heartworm when given monthly
Dosage
For dogs weighing 5 to 25 kg ( 11-55lb) the dosage is 1 tablet
For dogs weighing 25 to 50 kg ( 55-110lb) the dosage is 2 tablets
For dogs over 50kg, a combination of tablets should be given, consistent with the recommended minimum dose.
Treatment with Milbemax is safe for puppies from 2 weeks of age and 500g bodyweight*. And you only have to treat every 3 months for the most common worms.

Now, with a small amount of effort you can make a big impact on the health of your pet and family's protection.

Specifications
For
Dogs 5kg (11lbs)
Active Constituents
12.5 mg Milbemycin Oxime and 125 mg Praziquantel.
Application
Oral
Milbemax Dog over 5kg (11lb)