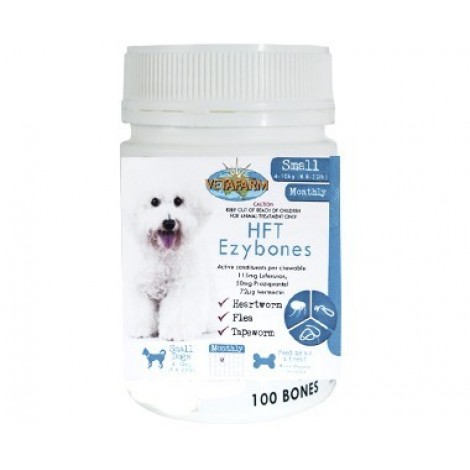 Active Constituents: 115mg Lufenuron, 50mg Praziquantel and 72ug Ivermectin.
Small Dogs 8.8-22lbs (4-10kgs)
Expiry: 20 Pack March 2023, 100 Pack March 2023
HFT Ezybones by Vetafarm for the treatment and control of
Fleas

Heartworm and tapeworm in dogs.

HFT chews contains the same flea and intestinal worm constituents as leading brands.
Administer monthly in food or immediately after feeding.
SAFETY: If your dog has not been on heartworm prevention, please see your veterinarian before using this product.
Use only as per label directions.
HFT chews also contains an Insect Growth Regulator (IGR) to sterilise biting fleas.
Meat flavoured chews.
Specifications
For
Dogs 4-10kg (8.8-22lbs)
Active Constituents
115mg Lufenuron, 50mg Praziquantel and 72ug Ivermectin
Application
Oral
HFT Ezybones Sml Dogs
Not available for sale to Australian customers