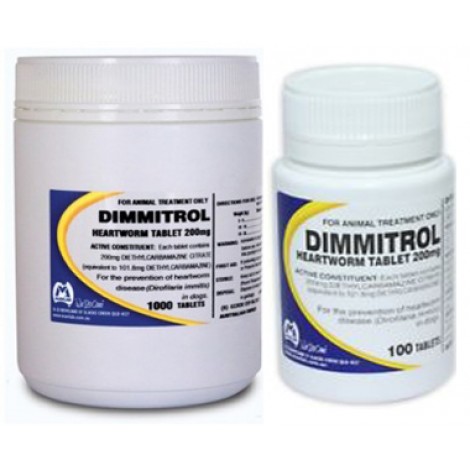 Active Constituents: Each tablet contains 200mg Diethylcarbamazine Citrate (equivalent to 101.8 mg Diethylcarbamazine)
Expiry: 1000 Pack October 2023
Usage: Dimmitrol tablets are used daily for the prevention of heartworm disease in dogs.
These tablets MUST be given daily.
They are ideal for use in those breeds of dog that are sensitive to some of the monthly heartworm preventatives.
Note: It is essential that your dog be tested by a veterinarian and found to be free of heartworm disease before using this product.
Serious or even fatal reactions can occur if used in dogs that have heartworm disease.
Dosage and Administration: Administer daily to dogs after 2 weeks of age at a rate of 5.5mg per Kg (2.2lbs) bodyweight.
Dogs 3-9kg (6.6-20lbs) - 1/4 tablet daily
Dogs 10-18kg (21-40lbs) - 1/2 tablet daily
Dogs 19-36kg (41-80lbs) - 1 tablet daily
Dogs over 36kg (80lbs) - treat according to weight.
Specifications
For
Dogs 3-36kg (6.6-80lbs)
Active Constituents
200mg Diethylcarbamazine Citrate
Application
Oral
Dimmitrol Daily tabs 200mg