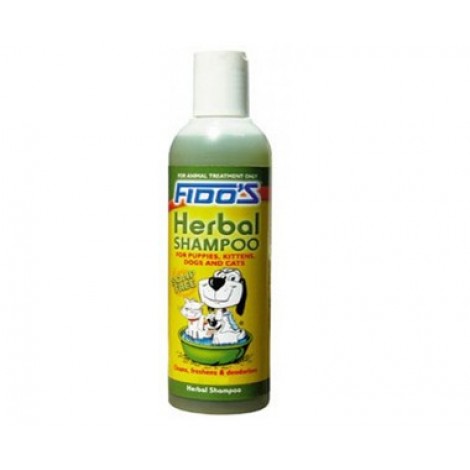 Fido's Herbal Shampoo contains a selection of herbal fragrances and oils including tea tree oil, aloe vera and timoty herb, carefully combined to give a pleasantly perfumed mild shampoo to clean and condition the coat.
COMPOSITION: Monoethanolamine Lauryl Sulphate, Glycerol, Alkyl Betaine, Coconut Diethanolamide, Aloe Vera extract, Tea Tree Oil, extracts of Camomile, Coltsfoot, Horsetail, Lemon balm, Marshmallow, Rest harrow, Rosemary, Sage, Wild Thyme, and Yarrow, colour, fragrance, water and preservatives.
INDICATIONS: A pH balanced, low irritant, moisturising and conditioning shampoo, that leaves pet looking, smelling and feeling good, without drying the skin.
Also has skin protective properties.
Can be used on all hair types but is particularly suitable for greasy hair.
DIRECTIONS FOR USE: For cats and dogs:
Wet coat thoroughly with warm water and apply FIDO'S HERBAL SHAMPOO at several places.
Work into a good lather and massage well into the coat.
Rinse with clean water and dry thoroughly.
Use up to twice weekly.
Specifications
For
Dogs
Active Constituents
Monoethanolamine Lauryl Sulphate, Glycerol, Alkyl Betaine, Coconut Diethanolamide, Aloe Vera extract, Tea Tree Oil, extracts of Camomile, Coltsfoot, Horsetail, Lemon balm, Marshmallow, Rest harrow, Rosemary, Sage, Wild Thyme, and Yarrow, colour, fragrance, water and preservatives
Application
Topical
Fido's Herbal Shampoo for Dogs & Cats 250mL (8.5 floz)