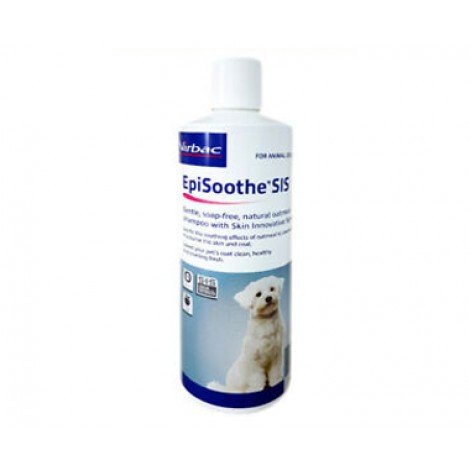 Active Constituents: Colloidal oatmeal 21 mg/mL * Glycotechnology (Rhamnose, Galactose, Mannose, Lauryl glucoside) * Defensin technology (Peumus boldus leaf extract, Spiraea ulmaria extract).
EpiSoothe SIS Shampoo is a soothing, colloidal oatmeal based shampoo containing Glycotechnology to reinforce skin barrier function and Defensin Technology to stimulate the skin's own natural defences.
A soothing, moisturising oatmeal shampoo. * Reinforces skin barrier function with Glucotechnology. * Stimulates skin defence with Defensin Technology.
*Dogs and cats with normal, itchy or dry skin. * As a topical treatment for dogs or cats where shampooing may offer some relief of itching or dry skin.
Contains colloidal oatmeal which delivers a superior effect, particularly beneficial when animals are itchy and shampooing may offer some relief. * Defensin Technology comprises two plant extracts shown to stimulate the body's own defence mechanisms. * Glycotechnology, a combination of saccharides, has been shown to decrease microbial adherence.
Dosage & directions for use: 1. Use lukewarm water to thoroughly wet the skin and coat.
Use a sponge to wet the skin around the face. 2. Apply shampoo to several points over the body.
Gently massage into the coat and skin thoroughly. 3. Leave shampoo on for 5 - 10 minutes to allow for sufficient contact time and better results. 4.
Thoroughly rinse off shampoo using lukewarm water.
Specifications
Package Information
237mL
For
Dogs Cats
Active Constituents
Colloidal oatmeal, spherulites and chitosanide
Application
Topical
Epi-Soothe SIS shampoo 237ml (8.05 floz)