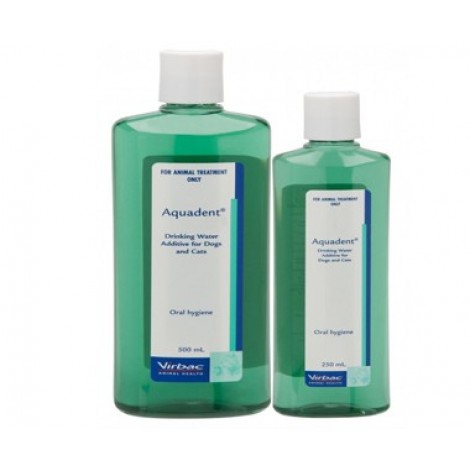 Does your pet suffer from bad breath, gum disease or dental decay?
You may be surprised to learn that PERIODONTAL DISEASE is the most common disease process seen in vet medicine affecting up to 95% of cats and dogs worldwide. Gingivitis and periodontitis are diseases of the teeth and gums that can also affect the heart, liver, kidneys, joints and brain. The good news is that dental disease is preventable through regular veterinary visits and good home care. Aquadent is the perfect solution for your pet.
Just add 10mls of Aquadent to 1 litre of your pet's water each day for dogs over 11kg. For pets under 11kg, add 5mls to 500mls of drinking water each day.
Aquadent contains xylitol, which is a well-recognised active ingredient used in human dental health care products. Aquadent helps to improve bad breath when used daily. Aquadent helps to maintain healthy gums after dental surgery/scaling and polishing, which increases the length
of time between dental treatments and cleaning.
Specifications
For
Dogs
Active Constituents
Xylitol
Application
Water Soluble
Aquadent