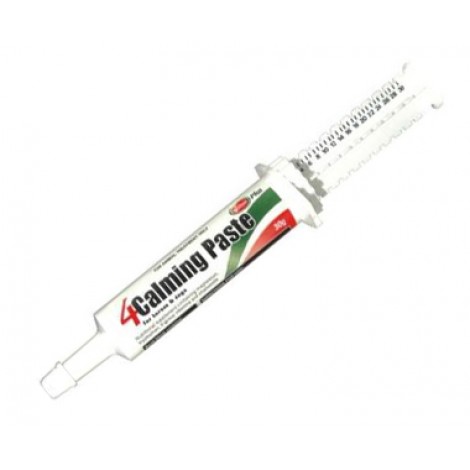 Calming Paste by Value Plus is a nutritional supplement for horses and dogs containing the unique combination of magnesium, tryptophan, B-group vitamins and chamomile in an easy to use paste formulation.
The unique combination of ingredients in Calming Paste produces a fast acting and reliable result.
Calming Paste will not affect the alertness of the animal or hinder their performance level.
Calming Paste is safe to use on pregnant or lactating animals and will not affect fertility in stud dogs or stallions.
Each 30mL contains: Magnesium 4,300mg, L-tryptophan 3,000mg, Thiamine (Vitamin B1) 600mg, Riboflavin (Vitamin B2) 500mg, Niacin (Vitamin B3) 500mg, Pyridoxine (Vitamin B6) 300mg, Matricaria recutitia (Chamomile) 4,500mg.
Calming Paste should be given 20 – 40 minutes before exercise or travel.
Dose may be repeated in 5-6 hours if required.
Give the recommended dose of Calming Paste in food, or as directed by a veterinarian.
Dosage:
Horses: 1/2 to 1 tube of Calming Paste per 500kg bodyweight.
Ponies: 1 ½ to 3mL of Calming Paste per 50kg bodyweight.
Dogs: ½ mL to 1mL of Calming Paste per 10kg bodyweight
Calming Paste is a highly palatable, sweet tasting paste with high acceptance in both horses and dogs.
Calming Paste 30gms