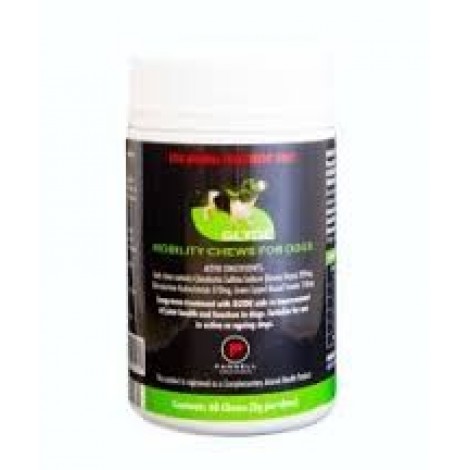 Active Constituents: Glyde Chews are manufactured using natural, gluten-free ingredients from environmentally sustainable suppliers. The source of Eicosatetraenoic Acid in Glyde Chews is Green Lipped Mussel Powder. No shark cartilege is used in Glyde Chews.
Glyde Mobility Chews offer a proven solution that controls the clinical symptoms of OA, and aids in improvement of joint health and function.
GLYDE Chews are proven effective for the long-term treatment of OA and are significantly less expensive than other nutraceutical combinations.
WHY ARE GLYDE CHEWS TRUSTED?
Glyde Chews are the ONLY nutraceutical that contains a proven therapeutic dose of both chondroprotective and anti-inflammatory ingredients.
WHAT MAKES GLYDE CHEWS UNIQUE?
Easy to break, soft, heart-shaped chew
Two chondroprotectives & an anti-inflammatory in one tasty treat
Natural anti-inflammatory relieves joint pain
100% palatability guarantee
Gluten-free
Natural
Glyde Mobility Chews For Dogs