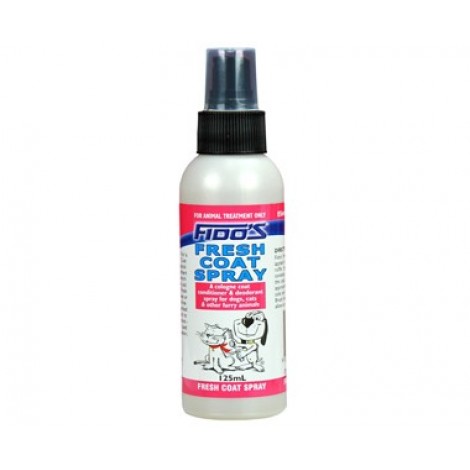 Fido's Fresh Coat Spray is a cologne coat conditioner and deoderant spray for dogs, cats and other furry animals.
COMPOSITION: Lanolin, silicone, quaternary ammonium compound.
ACTIONS: Coat conditioning and deodorising; de-tangling; mild bacteriostatic effect.
For dogs, cats and other furry animals.
WARNINGS: Keep away from naked flame.
DIRECTIONS: Apply to a dry or wet coat.
Ruffle the coat and hold the spray 25 - 30cm from the pets coat and spray a fine mist until slightly damp.
Brush the coat back into position and allow to dry.
Do not spray near pets eyes.
PRESENTATION : Solution: 125mL (4.25 floz) pump spray
STORAGE: Store below 30°C (Room temperature).
Specifications
For
Dogs
Active Constituents
Lanolin, silicone, quaternary ammonium compound
Application
Topical
Fido's Fresh Coat Spray 125mL ( 4.25 floz)