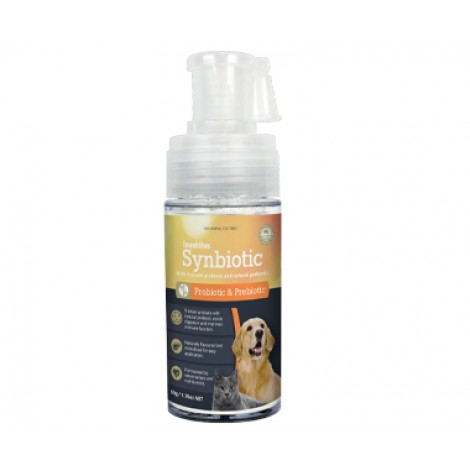 Active Constituents: Probiotics: (180 million CFU/g) Lactobacillus acidophilus, L.casei, L. salivarius, L.plantarum, L.rhamnosus, L.brevis, Bifidobacterium bifidum, B.lactis, S. thermophilus.
Prebiotic: Inulin (Chicory Root Extract), kangaroo meat, dextrose
Probiotic and Prebiotic
Recovery from diarrhea and dehydration
Post antibiotic therapy
Before use: Gently shake bottle, then aim nozzle in bin and pump 3-5 times to prime pump with correct dose of powder. Once primed, aim nozzle at food and dispense pumps as per directions below. Gently shake before each use.
Maintenance Dose: Spray food with 1 pump of Synbiotic per 10kg bodyweight, once daily
Stress Dose: 1 pump per 5kg bodyweight once daily until recovery.
Lovebites Synbiotic Topper 50gms