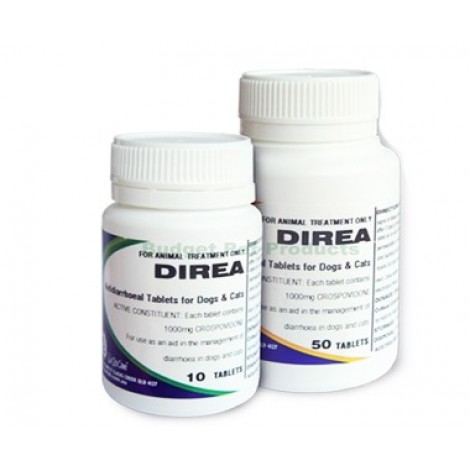 Tablets contain: CROSPOVIDONE 1000mg
When can Direa Tablets be Used?
Direa tablets can be used in the management of diarrhoea brought about by a variety of causes, including:
Dietary change for example a recently re-homed puppy
Infectious agents
Imbalance of gastro intestinal flora
Food poisoning
Direa Tablets - How do they Work?
Direa tablets contain a complexing or bulking agent called crospovidone that absorbs toxins and water from the gut to form a protective gel, thus slowing and reducing the severity of the diarrhoea.
Crospovidone is not absorbed through the gut wall and is chemically and biologically inert.
Dose Rates:
A twice-daily administration of the tablets for 2-4 days is recommended.
Dogs 1 tablet per 10-20 kg, cats ¼ tablet per 2.5-5kg bodyweight.
Remember:
Veterinary advice should be sought for pets that exhibit signs of illness other than diarrhoea, including blood stained faeces, or if diarrhoea persists after 3 days treatment with this product.

Australian Made.
A product of Australian research and development. Made in Australia. Registered with the APVMA (Australian Pesticides and Veterinary Medicines Authority), Approval Number 48443 Available in pack sizes of 10 tablets or 50 tablets.
Directions for use: Dogs - 1 tablet per 22-44 lbs (10-20kg) bodyweight. Cats - 1/4 tablet per 6-11 lbs (2.5-5kg) Administer twice daily for 2-4 days. Tablets are cross-scored, so can easily be divided into the appropriate size. Store tablets at room temperature, below 30°C (86°F)
Manufacturer: Mavlab
Specifications
For
Dogs 10-20kg (22-44lbs)
Active Constituents
Crospovidone 1000mg
Application
Oral
Direa Tablets for Dogs and Cats