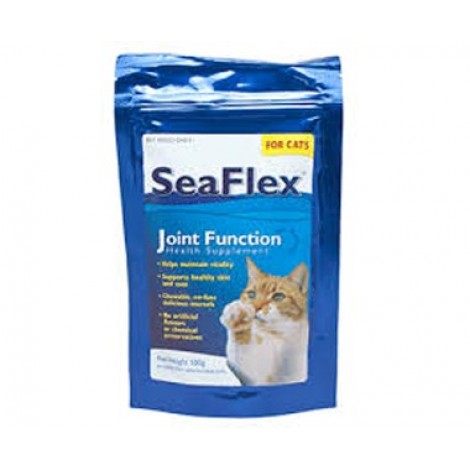 Seaflex is a patented marine nutritional supplement that provides health benefits not available in typical 'treats'.

Seaflex is an important source of Omega-3 fatty acids and marine trace minerals and nutrients.
If used on a regular basis, Seaflex helps to maintain healthy joint function, tendons, skin and coat condition.
SeaFlex for Cats is a patented, sea cucumber based supplement presented in a palatable treat form.
It contains a unique source of marine nutrients, including Glucosamine and Sea Chondroitin (a proprietary sea cucumber extract), that act synergistically to lubricate joints, nourish cartilage and connective tissue and support a shiny coat.
Contains no artificial flavours or preservatives.
Re-sealable 100-gram pouches, containing approximately 170 treat pieces.
Recommended daily amount is five treat pieces per 3kg (6.6 pounds) of body weight daily.
Specifications
Package Information
170 treat pieces
For
Cats
Active Constituents
Glucosamine and Sea Chondroitin
Seaflex Chews for Cats 100gms (3.5 oz)