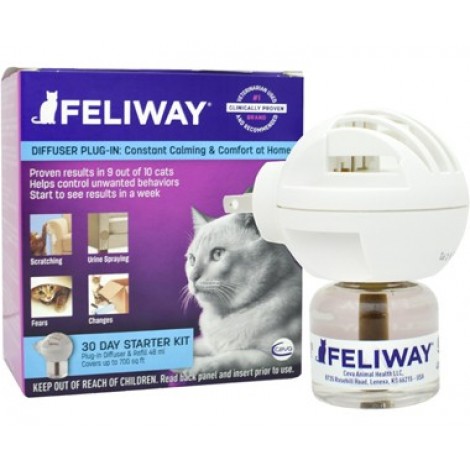 Manage Unwanted Feline Behavior Naturally.
Feliway uses pheromones to aid in the control of cat urine marking, scratching and stress naturally.
Pheromones are chemical substances secreted by animals to confirm their territory and to communicate with others.
The absence of the cats own marks creates anxiety.
For cats, unwanted behavior is often activated by changes in their environment.
Feliway Pheromone Spray helps aid situations such as stress, anxiety, inappropriate urination, moving, loss of appetite, vertical scratching, avoidance of social contact, trips to and from your veterinarian or groomer, new arrivals, re-arrangement of furniture, overcrowding, transportation, adoption and vacation homes.
Great for use in short term stressful situations, new or unknown, that may cause stress for your cat.
A convenient spray bottle that works great for use in your car and carriers when traveling.
Also available is the Feliway Electric Diffuser.
A one month supply that plugs into your wall.
Refills available.
Made for Australian power points.
International customers will need a converter to use this product.
Specifications
For
Cats
Active Constituents
Pheromones
Application
Diffuser
Feliway Electric Diffuser and Refill (240 volts)