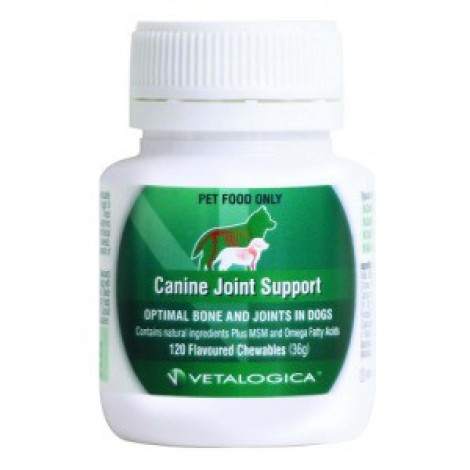 Active Constituents: Wholegrain Wheat, Poultry Meal, MSM, Poultry Oil, Omega fatty acids, Chicken flavour, vitamins (Vitamin E, Calcium Pantothenate (Vit B5), Riboflavin (Vit B2), Niacin (Vit B3), Vitamin B1, Pyridoxine (Vit B6), Vitamin K, Folic Acid, Cyanocobalamin (Vit B12), Biotin, Vitamin A, Vitamin D), Taurine, minerals (Zinc, Iron, Manganese, Copper, Iodine, Selenium), Antioxidants.
For Optimal Bone and Joints in Dogs.
Contains 120 flavoured chews
About 80% of dogs over 8 years old suffer from arthritis or joint stiffness. Numerous factors such as diet, lifestyle, age, breed and injury all contribute to joint function and strength.
FEATURES AND BENEFITS
Contains natural ingredients plus MSM and omega fatty acids
Specially formulated vitamins and minerals in correct ratios for dogs
Manufactured under HACCP standards.
Great tasting treat for dogs

HOW IT WORKS
Canine Joint Support is a particularly important treat in unbalanced diets, which can lead to arthritis and other joint related health issues. These specially formulated tablets contain essential vitamins and minerals that help reduce the risk of nutritional developmental bone disorders in susceptible breeds. It also promotes optimal growth and development of the musculo-skeletal system.
DIRECTIONS FOR USE
A delicious chicken flavoured tablet can be given as a treat to puppies and adult dogs with or without food. When giving more than one tablet, divide between morning and night. Canine Joint Support treats should be given in conjunction with a balanced diet. Consult your veterinarian regularly for further information and advice.
DOSAGE
Up to 10kg 3 chewable/day
10-25kg 4 chewables/day
25-45kg 5 chewables/day
45kg and over 6 chewables/day
Specifications
Package Information
120 Tablets
For
Dogs 10-45kg (22-99lbs)
Active Constituents
Real Australian Meat (Chicken Meal and Duck Meal), Potato Starch, Peas, Tapioca Starch, Poultry Tallow, Chondroitin, Glucosamine, Tomato, Pumpkin, Chia Seed, Flaxseed, Salt, Beet Pulp, MSM, Potassium Chloride, Chickpea Flour, Potassium Sorbate, Phosphoric Acid, Omega 3 & 6, Choline Chloride, Vitamins (Retinol (Vit A), Thiamine (Vit B1), Riboflavin (Vit B2), Niacin (Vit B3), Calcium Pantothenate (Vit B5), Pyridoxine (Vit B6), Folic Acid (Vit B9), Cobalamin (Vit B12), Vitamin C, Vitamin D, Vitamin E, Vitamin K), Minerals (Calcium, Copper, Iron, Manganese, Magnesium, Selenium, Zinc), Soy Lecithin, Methionine, Tryptophan, Dicalcium Phosphate, Taurine, Rosemary, Natural Antioxidants
Application
Oral
Canine Joint Support Tabs