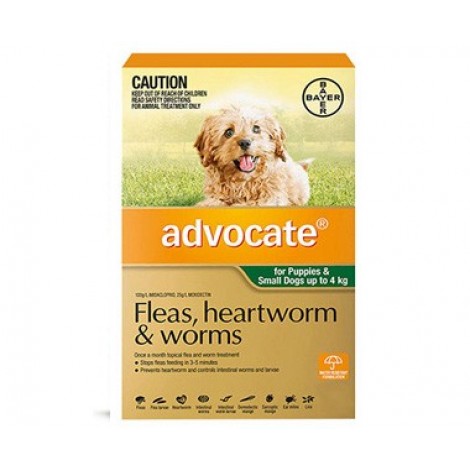 Active Constituents: 100 g/L Imidacloprid, 25 g/L Moxidectin
Treats Dogs Up to 8.8lb (up to 4kg)
The most complete all-in-one parasite protection
Advocate not only treats parasite infections, but monthly treatment can help protect your dog against fleas, heartworm, gastrointestinal worms, mites and lice.

An easy-to-use spot-on application, Advocate acts on multiple stages of parasites to treat infections faster and sustain protection longer.
Advocate provides fast relief from fleas
Advocate prevents deadly heartworm
Advocate protects your pet and family from gastrointestinal worms
Advocate controls ear mites
Advocate controls demodex
Advocate treats and prevents sarcoptic mange
Advocate lasts all month and is easy to use
Advocate is waterproof
Advocate is safe and effective
Advocate is tough on parasites but gentle enough to use on puppies from 7 weeks.
Advocate are registered trade marks of Bayer AG. these trade marks may not be used without the express permission of Bayer AG or its authorised licensee in Australia, Bayer Australia Limited" This is an Australian registered product labelled in kilograms. A spot on applied once a month to the skin at the back of your dogs neck, Advocate is a registered trademark of Bayer A.G. Leverkusen, Germany.
Specifications
For
Dogs up to 4kg (8.8lbs)
Active Constituents
104 g/L Imidacloprid, 25 g/L Moxidectin
Application
Topical
Advocate Sml Dog & Pups (Green)