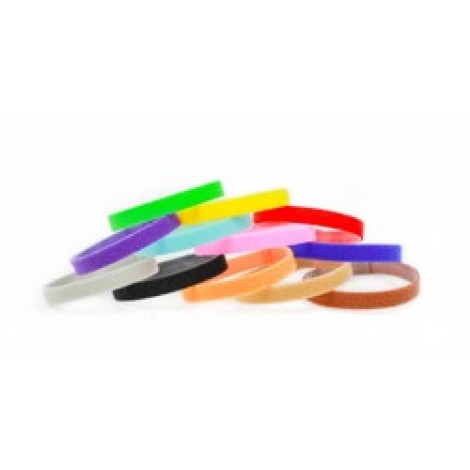 Wagging Tailz Puppy ID Bands – 12 Band Pack
Choose the correct size for your puppy/breed.
Newborn: 8"L x 3/8" W -8 INCHES- Suitable for newborns (Small breeds) up to 4 weeks - Toy breeds suitable from birth to 8 weeks.
Medium: 12" L x 3/8" W 12 INCHES-Suitable for medium & smaller size breeds (4-8 weeks) - Larger breeds this size is suitable from birth to 4 weeks
Large: 14"L x 3/8" W 14 INCHES Suitable for Larger Breeds (4-8 weeks)
Ex Large: 16" x 1/2" W 16 INCHES-Suitable for Giant & Longer haired breeds (4-8 weeks)
Breeders and dog/cat lovers from around the world love using our litter identification collars for their newborn puppies and kittens. Our Puppy ID Bands are a soft, thin 'hook & loop' material that self-attaches with a secure grip.
The bands are LOOSELY wrapped around the puppy's/kittens necks as they are born to give them immediate identity among their litter mates. Please note: Our bands are not your typical VELCRO material, this is a new and improved material made from Nylon and Poly, these bands will not attach to other puppy collars or bedding etc.
Newborn puppy/kitten care involves planning and early preparation for the special day. It is important to have all the necessary pet & whelping supplies needed for newborn puppies/kittens. Unless you are an experienced breeder, you might not know how to care for newborn puppies/kittens or which whelping supplies are needed.
Often times, a litter of puppies/kittens can look identical to each other so it is important to have some method to tell the puppies apart. Dog breeders have been known to use different ways to ID puppies, such as spray paint, nail polish, ribbons, etc. Now finally there is an easy way to identify newborn puppies/kittens without strings or hassle. Each puppy/kitten simply wears a different colored collar to separate him from his litter mates. The puppies/kittens will also become accustomed to wearing a collar from Day 1 which allows an easier transition to using a typical dog/cat collar at 6-8 weeks.
The Puppy ID Bands should be wrapped straight around so that the Velcro attaches to itself properly.
The bands should be wrapped loosely, so that they can spin around. Wrapping too tight may cause skin irritation.
The bands should be checked daily for growth adjustments.
The bands should be kept free of lint, dirt, etc. This will help them to stay securely attached. The bands can be washed with mild soap and water if needed.
Snipping the corners of each band to round the edges is recommended before using. This will prevent the sharp corners from poking the puppy/kitten if the band becomes uneven. * AGAIN, the bands should be checked often for growth or irritation. Adjust as needed. Puppies/kittens grow very quickly and the bands can become too small in a matter of hours.
Wagging Tailz Puppy ID Bands