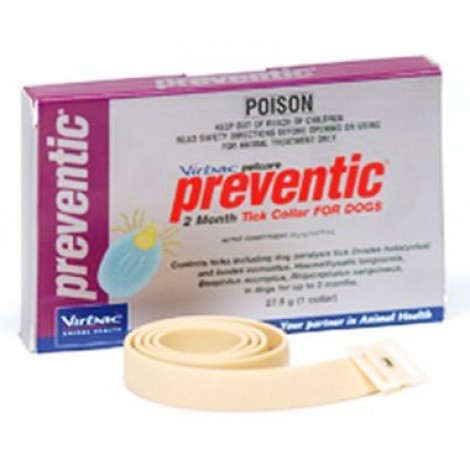 Acitve Constituents: 90g/kg Amitraz
Prevents attachment
The tick does not need to bite the dog to be killed by Preventic. Preventic not only kills ticks but it also detaches the tick before they infect. This means little or no toxin exposure to the dog.
Long acting protection
Preventic offers protection from paralysis ticks for up to 2 months, whereas many other products only offer up to 3 weeks protection or have to be used daily or every second day to maintain any protection.
Safe when used with flea prevention treatments
More and more people are now using combinations of insecticides and tickicides. Virbac has assessed the safety of Preventic when combined with a number of other products. Whilst such combinations are considered "off label" they were demonstrated as safe when assessed.
Packs
1 collar of 27.5 g (72 cm)
Directions for use
- Fit collar to dog, 2 or 3 fingers should be able to be inserted between the collar and the dog's neck.
- The collar may irritate the dogs skin if attached too tightly.
- Cut off and dispose of any excess length of collar.
- Once applied, do not remove Preventic (except while bathing) as the continual dosage of Amitraz will be interrupted.
- Bathing the dog will remove fats containing Amitraz from the dog's skin and hair coat.
- It will take approximately 24 – 48 hours for the levels to return.
- Keep this in mind when washing or swimming dogs.
- Daily searching for ticks in paralysis tick areas is recommended.
- Particularly in and around the ear area.
- Preventic is recommended on dogs from 3 months of age.
Precautions
- Remove collar should the dog show any sign of skin irritation.
- Do not allow children to play with the collar.
- Do not open inner sachet of pack until ready to use collar.
- Wash hands after use.
Specifications
For
Dogs
Active Constituents
90g/kg Amitraz
Application
Collar
Virbac Preventic Tick Collar for dogs