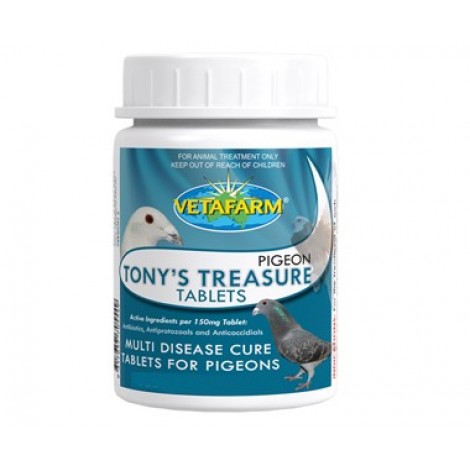 Active Ingredients: Antibiotics, Antiprotozoals and Anticoccidials
Tonys Treasure Tablets are a multi disease cure tablet.
An excellent combination of medicines for the oral treatment of poor condition or performance diseases such as respiratory diseases, Canker, Sinusitis, Air Saccultis, Enteritis, diarrhea and weight loss. 1 tablet daily for 3-5 days or until bird recovers.
Tonys Treasure Tablets are a unique combination of powerful ingredients designed to treat a range of diseases in pigeons where exact diagnoses are not possible
Will not treat viral diseases.
Please note: The 1000's tablets are a special order in range and could take a few extra days to order in and come into stock.
Specifications
For
Pigeons
Active Constituents
Antibiotics, Antiprotozoals and Anticoccidials
Application
Water Soluble
Tonys Treasure Tablets
Not for sale in Australia