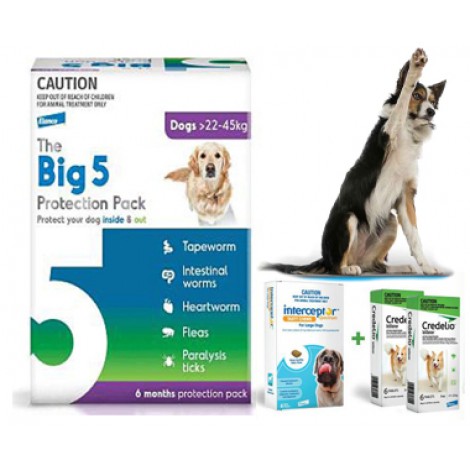 Treats dogs 48-99lbs (22-45kgs)
Size: 6 Pack
Expiry: 6 Pack Msy 2020
Credelio -Active Constituents: 450mg Lotilaner
Interceptor- Active Constituents: Each Chew Contains: 23mg Milbemycin Oxime, 228 Praziquantal.
The Big 5 Protection Pack For Dogs Purple 22-45kg 6 Pack
The Big 5 Protection Pack protects your dog against tapeworm, intestinal worms, heartworm, fleas and paralysis ticks
The pack combines both Credelio tablets and Interceptor chews (6 of each for 6 months of protection)
Interceptor protects against heartworm, roundworm, whipworm, tapeworm and aids in the control of hookworm
Credelio treats and prevents flea infestations, treats and controls paralysis ticks, brown dog ticks,bush ticks, and controls flea allergy dermatitis (FAD)
The bundle pack provides 6 months of protection for dogs 22-45kg
One Credelio and One Interceptor is to be administered once per month
Credelio
A monthly oral chewable tablet for the treatment and prevention of flea infestations and treatment and control of ticks on dogs and puppies
Indications
For the treatment and prevention of
Flea infestations (Ctenocephalides felis)
For the treatment and control of
Paralysis Ticks (Ixodes holocyclus)
Brown Dog Ticks(Rhipicephalus sanguineus)
Bush Ticks (Haemaphysalis longicornis)
For the control of Flea allergy dermatitis (FAD)
Benefits
Each tablet provides protection for up to 1 month
Demonstrated >95% efficacy for a full month against Paralysis Ticks, Brown Ticks and Bush Ticks
Starts to kill fleas within 2 hours of administration
Fleas eliminated within 6-12 hours
For new infestations, fleas are eliminated within 4-6 hours throughout the entire month
Kills existing and newly emerged fleas on dogs before they can lay eggs due to its rapid onset of action and long-lasting efficacy
Credelio breaks the flea life cycle and prevents environmental contamination in areas to which the dog has access
Controls flea allergy dermatitis (FAD) by controlling adult fleas
Contains Lotilaner which acts on the physical function of the parasites
The small tasty chews are easy to consume
Delicious beef flavour
Highly palatable
Interceptor Spectrum
is a monthly tasty chew for the prevention and treatment of heartworm and gastrointestinal worms in dogs. This broad-spectrum oral preventive destroys various intestinal worms including tapeworm, whipworm, roundworm and hookworm.The flavoured chew is safe for puppies 2 weeks of age and above, and works well in all sizes and breeds of dogs.
Great new chew your dogs will LOVE!
The Big 5 For Large Dogs Purple