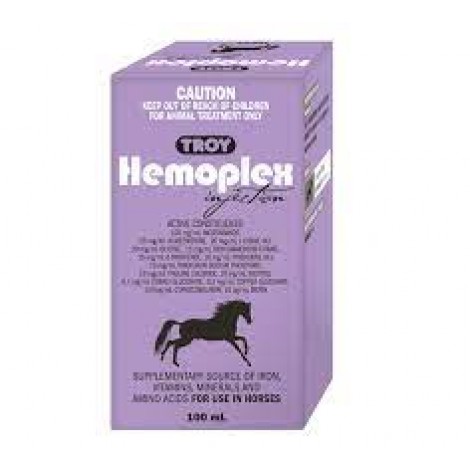 Hemoplex Injectable 100mL (3.4 floz)
For stress associated with racing, heavy work and convalescence after a disease, restoring blood values after worm infestation, appetite maintenance and general good health in horses.
Injectable supplementary source of iron, vitamins, minerals and amino acids for horses.

Active Constituents: Nicotinamide 100mg/mL, dl-Methionine 20mg/mL, L-Lysine HCl 20mg/mL, Glycine 20mg/mL, Iron Ammonium Citrate 15mg/mL, d-Panthenol 15mg/mL, Pyridoxine HCl 10mg/mL, Riboflavine Sodium Phosphate 10mg/mL, Choline Chloride 10mg/mL, Inositol 10mg/mL, Cobalt Gluconate 0.7mg/mL, Copper Gluconate 0.2mg/mL, Cyanocobalamin 150µg/mL, Biotin 10µg/mL.


Hemoplex Injectable 100mL