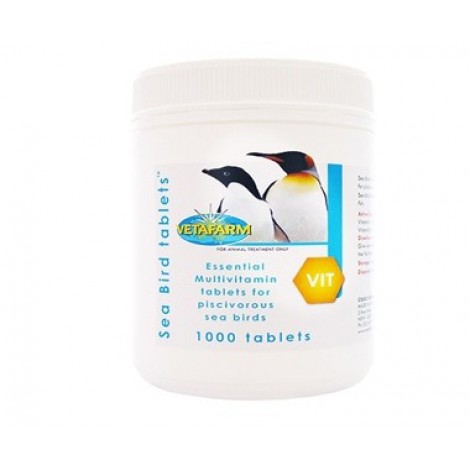 Active Constituents: Each tablet contains: Vitamin A, B2, B6, C, E, Biotin, Thiamine, Folic Acid, Calcium Pantothenate
Tablets to supplement fish diets in sea birds.
Recommended for: All sea birds.
Key features: Supports sea birds on frozen fish diets with crucial vitamins. Easily administered tablet inserted into the gills of frozen fish or added to food.
Directions: Give one tablet per Kg body weight of bird daily. The tablet may be inserted into the gills of the fish that are fed to the birds, or added to a food based on 1 tablet per Kg of body weight.
Specifications
For
Sea Birds
Active Constituents
Vitamin A, B2, B6, C, E, Biotin, Thiamine, Folic Acid, Calcium Pantothenate
Application
Tablet
Sea Bird Tablets - 1000 Tablets