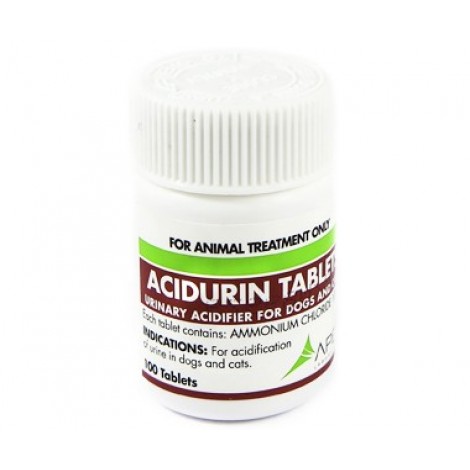 Active Ingredients: Ammonium Chloride 100mg

Caution: Do not use in in pregnant cats or dogs or for pets on sulphonamide therapy.
Application: Is your cat or dog having many urinary tract infections, urine acidification and crystals and stones.
Acidurin acidifiers help dissolve magnesium ammonium phosphate crystals in canine and feline urine, allowing easier bladder flow for your pets.
Assists in relieving the pain and discomfort dogs and cats suffer due to urinary tract infections.
Always seek veterinary advice from your vet prior to giving this medication to your pet.

Dosage Instructions:

Give one tablet for every 5kg of bodyweight twice daily or as directed by your vet.
Exercise caution if used in conjunction with Sulphonamide therapy due to increased danger of crystalluria.
Specifications
For
Dogs
Active Constituents
Ammonium Chloride 100mg
Application
Oral
Acidurin - 100 Tablets