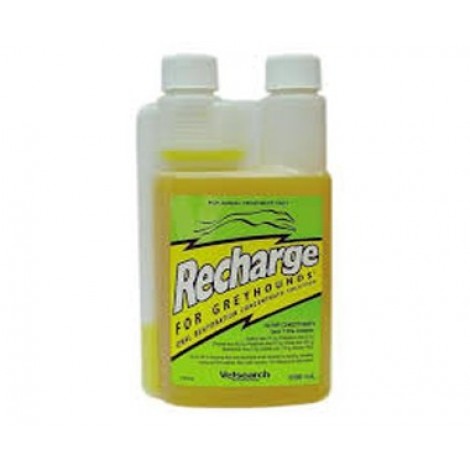 Composition Each L contains sodium 27.6 g, potassium 30.4 g, chloride 43.3 g, phosphate 17.4 g, citrate 34.5 g, magnesium 3.0 g, sulfate 11.8 g (all as ions); glucose 260 g.
INDICATIONS:
As an aid in restoring fluid and electrolyte levels depleted
by training, travelling, racing and hot weather. Aids rapid
recovery from fatigue and dehydration.
RECOMMENDED FOR:
Racing/travelling greyhounds
Working dogs
Nursing bitches
Dehydrated dogs, due to illness or heat stress
DOSAGE & DIRECTIONS:
Ensure an adequate supply of clean, cool, fresh drinking
water is available after offering RECHARGE drink.
The RECHARGE concentrate should be diluted with clean,
fresh drinking water as directed. The diluted drink should be
offered as the first drink during cooling down from exercise.
Before Racing: Mix 5mL into 125mL (1/2 cupful) of cool, clean
water, and offer as a drink after travelling prior to kennelling.
Estimate the weight loss and offer sufficient to satisfy the
greyhound's thirst, but take care to avoid exceeding the
greyhound's racing weight range.
After Racing: Mix 10mL into 250mL (1 cupful) of cool, clean
water, and offer as a drink during the cooling down period.
Provide a bowl of fresh, cool water in conjunction with the
RECHARGE drink in the kennel.
Hot weather/Nursing Bitches: A bulk solution can be prepared
and offered as an alternative drink in conjunction with fresh water.
Mix at the rate of 40mL/litre water. Portion out to each greyhound
as required, in addition to a bowl of fresh water.
Bulk solution may be refrigerated. Mix fresh solution each day.
Specifications
For
Dogs
Active Constituents
Sodium 27.6g, Potassium 30.4g, Chloride 43.3g, Phosphate 17.4g, Citrate 34.5g, Magnesium 3.0g, Sulfate 11.8g, Glucose 260g
Application
Oral
Recharge for Dog 500mL