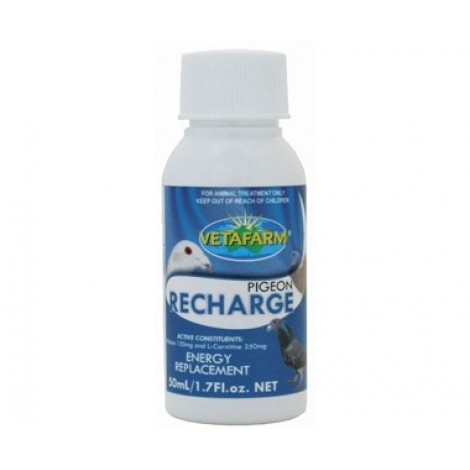 Discontinued – Only 3 Available
Active Constituents: 150mg/mL Ribose, 250mg/mL L-Carnitine
Dual action liquid supplement for dilution in water and direct administration.
Recommended for: Performance Pigeons before and after each race.
Ribose and L-Carnitineboth have a role in the energy conversion process for all cells within the body, including the muscle cells.
Key features: Recharge provides an additional supply of Ribose and L-carnitine to performance animals, where levels may be depleted due to intense exercise.
Directions:
Dilute 1 part Recharge with 4 parts water.
For example, to make 100mL, mix 20mL of Recharge with 80mL of water.

Give 1mL of the dilution per bird by mouth once daily for 3 days prior to racing and 1mL immediately following racing. Long races: (greater than 1500Km) Give 2 mLs daily for 3 days before the race.
*Pigeon Recharge 50mL