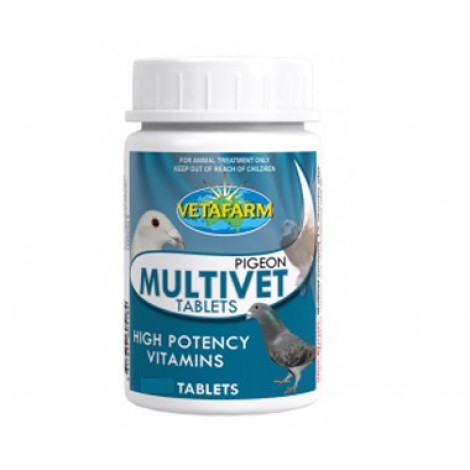 Discontinued – Only 1 Available
Active Constituents: Vitamin A 160 IU, Vitamin D3 40 IU, Vitamin E 0.4 mg, Vitamin K 326 ug, Vitamin B3 796 ug, Vitamin B1 78 ug, Vitamin H 1.6 ug, Vitamin b12 0.72 ug, Choline Bitratrate 6.27 ug, Vitamin B9 38 ug, Vitamin B5 196 ug, Vitamin B6 62 ug, Vitamin B2 202 ug, Lodine 33 ug
Pigeon Multivet Tablets - High Potency Vitamin Tablets for Pigeons
Indications: Multivet contains 13 vitamins plus Iodine. Vitamins are essential for the health and vigour of pigeons. Multivet tablets are formulated to ensure that pigeons receive all of the vitamins essential to normal health, where levels may be deficient in the diet.
Dosage: Give one tablet daily.
Please note: The Pigeon Multivet 1000's tablets are a special order in range and could take a few extra days to order in and come into stock.
Specifications
For
Pigeons
Active Constituents
Vitamin A 160 IU, Vitamin D3 40 IU, Vitamin E 0.4 mg, Vitamin K 326 ug, Vitamin B3 796 ug, Vitamin B1 78 ug,  Vitamin H 1.6 ug, Vitamin b12 0.72 ug, Choline Bitratrate 6.27 ug, Vitamin B9 38 ug, Vitamin B5 196 ug, Vitamin B6 62 ug, Vitamin B2 202 ug, Lodine 33 ug
Application
Tablets
*Pigeon Multivet 100 Tablets