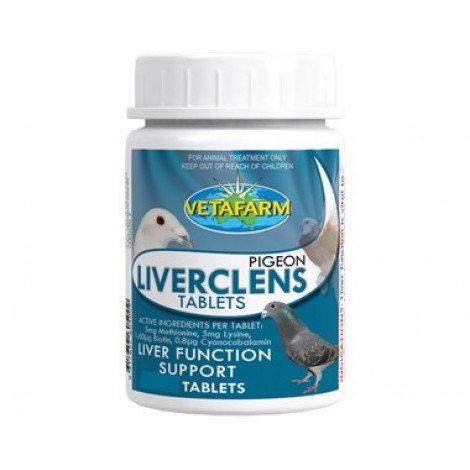 ACTIVE INGREDIENTS: 91.5µg Cyanocobalamin, 6µg Methionine, 91.5µg Biotin, 6µg Lysine
Tablet for healthy liver function in Pigeons.
INDICATIONS: Liver function is vital to pigeon health.

Key features: Supports liver health by providing vital ingredients for the repair and detoxification of the liver. Ideal treatment following disease, stress or antibiotic administration. Easy to administer tablet.
DIRECTIONS: 1 tablet per pigeon twice a week as required.
Specifications
For
Pigeons
Active Constituents
91.5µg Cyanocobalamin, 6µg Methionine, 91.5µg Biotin, 6µg Lysine
Application
Tablets
Pigeon Liverclens