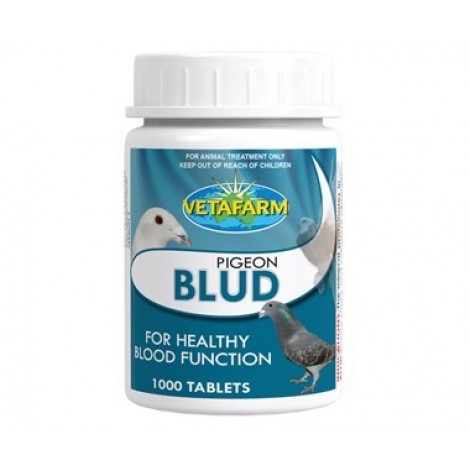 ACTIVE INGREDIENTS: Iron Proteinate 3mg, Cobalt Proteinate 0.3mg, Copper Proteinate 0.3mg, Vitamin B12 0.01mg, Zinc Proteinate 7.5mg, Folic Acid 0.04mg
Blood Health Tablets for Pigeons.

INDICATIONS: The mineral proteinates in BLUD ensures rapid and complete absorption of essential factors, which may improve blood health & function.

DIRECTIONS: Give one tablet daily per pigeon for three weeks then one tablet twice a week during the race season.
Please note: The Pigeon 1000's tablets are a special order in range and could take a few extra days to order in and come into stock.
Specifications
For
Pigeons
Active Constituents
Iron Proteinate 3mg, Cobalt Proteinate 0.3mg, Copper Proteinate 0.3mg, Vitamin B12 0.01mg, Zinc Proteinate 7.5mg, Folic Acid 0.04mg
Application
Tablets
Pigeon Blud 1000 Tablets