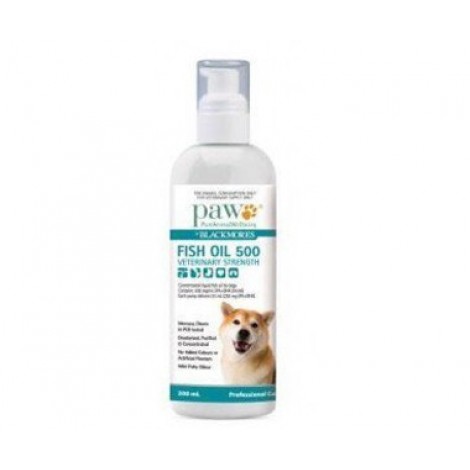 PAW Fish Oil 500: Veterinary Strength is a concentrated blend of liquid fish oil with no added artificial colours or flavours. It contains Blackmores fish oil with omega 3 fatty acids, EPA and DHA, formulated specifically for pets based on standard ratios recommended by the US National Research Council.
Supports maintenance of general health and wellbeing of your dog.
Concentrated low volume formulation, reduces diarrhoea risk.
Easy to calculate dosing.Mild fishy odour for better acceptance by pets.
Deodorised, purified and concentrated.No added artificial colours or flavours.
Mercury, Dioxin & PCB tested.
Consult your veterinarian about use of fish oils as adjunctive nutritional management for:
Joint health including Osteoarthritis.
Other inflammatory or immunologic conditions, including atopy and some bowel disorders.
Cardiovascular health.
Renal conditions
Inflammatory Skin Diseases
Cognitive Dysfunction
Using human fish oil for dogs can cause the following issues:
Correct dosing is difficult and overdosing can cause digestive issues (i.e. diarrhea and vomiting).
Requires greater volume to be used to meet a dogs daily requirements, which can become expensive.
Difficult to administer to dogs as capsule and flavoured liquid varieties are not palatable for pets.
PAW Veterinary Strength Fish Oil 500 - 200mL