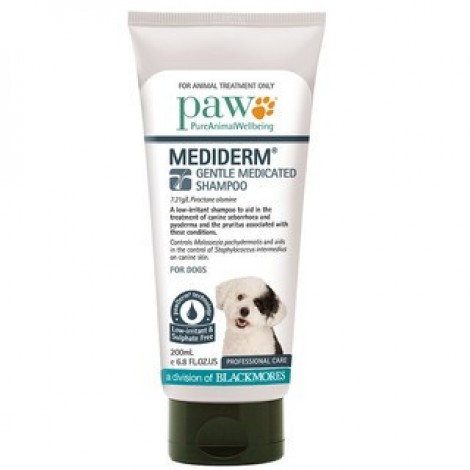 PAW MediDerm Gentle Medicated Shampoo uses a new veterinary active ingredient called Piroctone Olamine to treat skin infections in dogs. This shampoo is proving to be the gentler, faster and safer way to treat skin infections.
MediDerm from Blackmore's is a low irritant, antifungal and antibacterial shampoo which is gentle on your dogs skin. Using Piroctone Olamine, which is a new veterinarian active sulphate free technology, MediDerm Shampoo treats pyoderma, seborrhoe and pruritus which are complaints associated with infected dog skin.
Additionally PAW MediDerm Medicated Shampoo will control staphylococcus intermedius and malassezia pachydermatis while preserving the skin barrier function. MediDerm will also remove scaly skin and grease, and manage recurring skin infections.
Blackmore's products are developed in consultation with qualified animal dermatologists. Recommended by vets
PAW MediDerm Gentle Medicated Shampoo 200mL