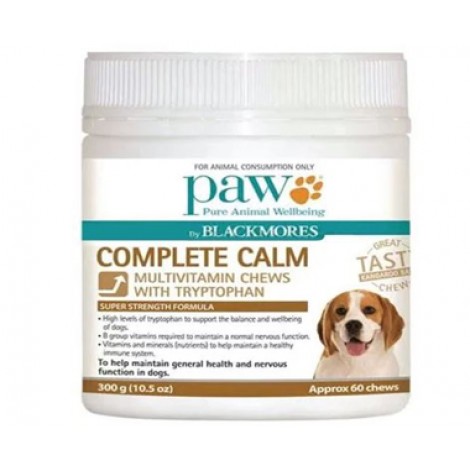 Prevoius named PAW Multi+Tryptophan Multivitamin Chews are tasty kangaroo based chews that contain 25-50% of the Recommended Daily Intake (RDI) for key B group vitamins for general health & wellbeing including normal nervous function, antioxidants to maintain the immune system and additional tryptophan for positive balanced health. 300gms

PAW Multi+Tryptophan Chews are a tasty kangaroo based chews that provide:

* High levels of tryptophan to support and balance the wellbeing of pets.
* High levels of B group vitamins for healthy body and nervous function.
* Antioxidants, vitamins A & E, to maintain a healthy immune system.

Taken daily, PAW Multi+Tryptophan Chews help to maintain general health and nervous function for a positive healthy, happy pet.

PAW Multi+Tryptophan Chews are available in a 300g tub. Each tub contains approximately 60 chews.

* Up to 25kg 1 Chew daily
* Above 25kg 2 Chews daily

Dogs under 5kg should only receive ½ chew daily

Australian Kangaroo meat & meal, rye flour, soya flour, brewers yeast, sucrose, minerals, emulsifiers, Ltryptophan,salt, vitamin E, Vitamin B supplement (niacin (B3), riboflavin (B2), pyridoxine hydrochloride (B6), thiamine (B1), folic acid (B9), biotin (B7)), DHA/EPA, natural preservatives, binder, vitamin A supplement.

For pets that benefit from increased nutritional levels, particularly pets that would benefit from:

* Tryptophan supplementation.
* Comprehensive B Group vitamin supplementation.
* A flat disc shaped chew that is mid brown in colour.
Specifications
For
Dogs
Active Constituents
Kangaroo meat & meal, rye flour, flaxseed, binders and stabilisers, soy flour, water, tryptophan, processing aids, sodium chloride (salt), vitamin C, methylsulfonyl methane (MSM), colour & flavour, omega-3 fatty acids, zinc sulphate (zinc), pantothenic acid (B5), iron sulphate (iron), vitamin E, niacin (B3), riboflavin (B2), thiamine (B1), manganese oxide, pyridoxine (B6),vitamin K3, vitamin A, calcium iodate (iodine), selenium, folic acid, cyancobalamin (B12), biotin, copper sulphate (copper)
Application
Oral
PAW Complete Calm Chews 300gms